English translation at bottom of page


Sooodele, mal ein bischen was zum gucken :) Ich verwende den Begriff 'Katzenzimmer' uebrigens recht locker. Die 'Katerzimmer' sind tagsuebert immer offen, und im Wurfzimmer darf auch gelegentlich schon mal ein Gast uebernachten. Aber es ist einfach ideal, weil ich nun endlich nicht mehr eine Nacht auf dem Bauch und/oder Fußboden verbringen muss (hoffe ich wenigstens). Jetzt koennen wir am faelligen Termin zusammen ins 'WurfBett', welches so ausgestattet ist das es ruhig nass werden darf. Das Wurzimmer steht zur freien Verfuegung wenn es nicht gebraucht wird, sodas sich die Maedels dort vorab schon sehr wohlfuehlen (das Fenster geht zum Vorgarten/Strasse, und die Lieblingsbeschaeftigung ist am Fenster faxen fuer die Spaziergaenger machen, die dann oft stehenbleiben und lachen und winken)

Ansonsten sieht es so aus, das unser Haus halbweisig in Schlaf und Wohnbereich getrennt werden kann, jeweils mit mehreren grossen Zimmern, und die Katzen mit uns wandern, also nachts in den Schlafbereich (ohne Kater) und tagsueber in den Wohnbereich. Das wuerden sie freiwillig sowieso tun, ermoeglicht aber auch eine besser Kontrolle wer mit wem usw. Und der Kater darf im Moment leider nur noch mit 'Windel' ins Bett, also ein Stuendchen zum schmusen. Ansonsten hat er dann nachts 'sein' Zimmer fuer sich alleine in dem er gluecklicherweise nicht allzuviel markiert. Umso ueberschwaenglicher faellt dann morgens die gesamte Begruessung aus. Allerdings lieben die Katzen dieses Zimmer und halten sich auch tagsueber oefter darin auf, und er geht abends freiwillig hinein und 'ruft' (los komm, zieh windel aus, ich will jetzt schlafen).

Katzenzimmer #1 (hier duerfen wir auch wohnen) - inzwischen mit Holzboden
Cat Room #1 (we are also allowed to live here)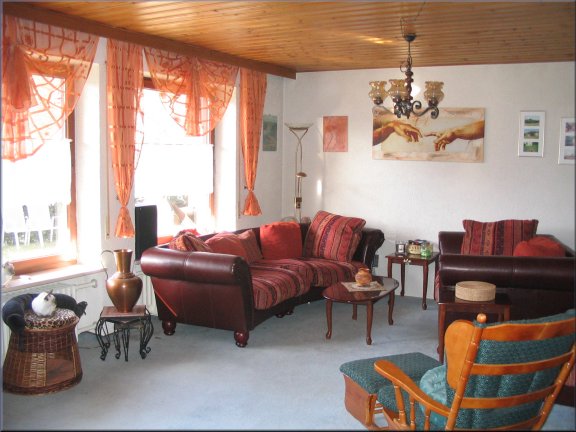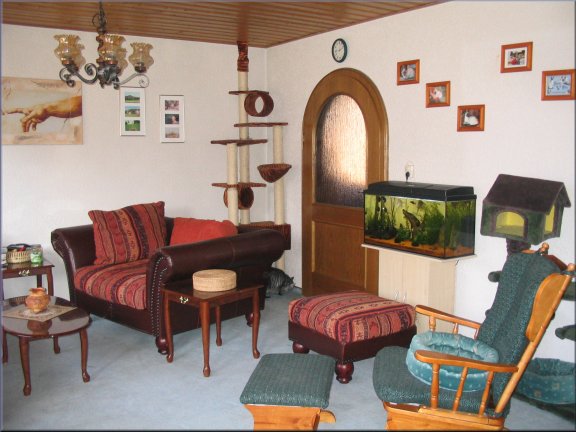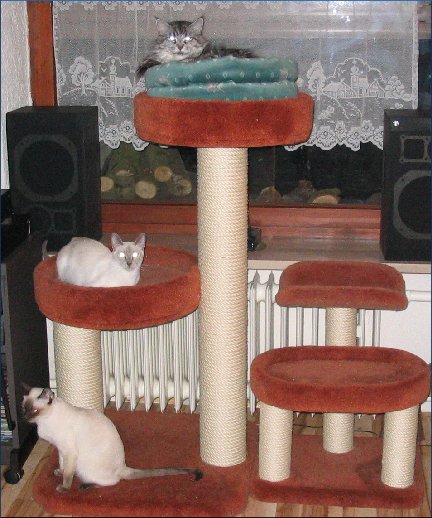 NUR fuer Katzenspass (just for cats)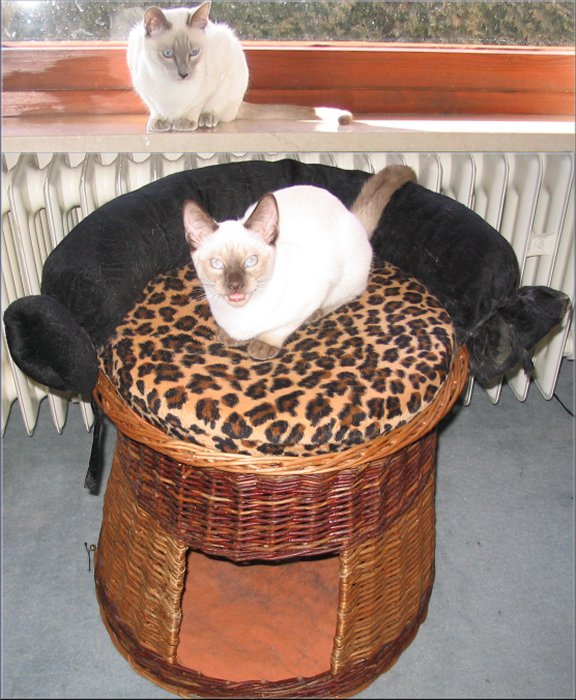 Katzenzimmer #2 (Katerzimmer am Wohnzimmer)
Stud Room #1 (connected to living room)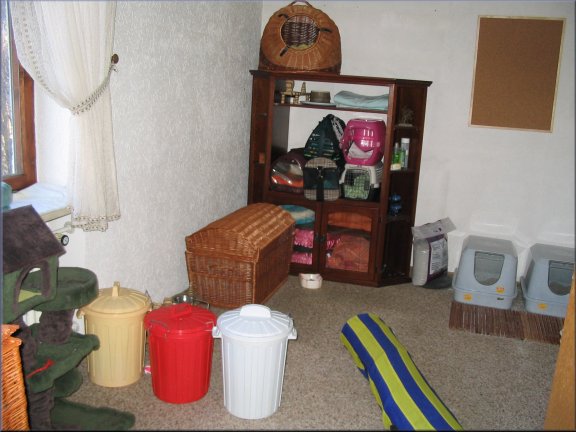 Katzenzimmer #3 (Wurfzimmer)
Cat Room #3 (delivery room)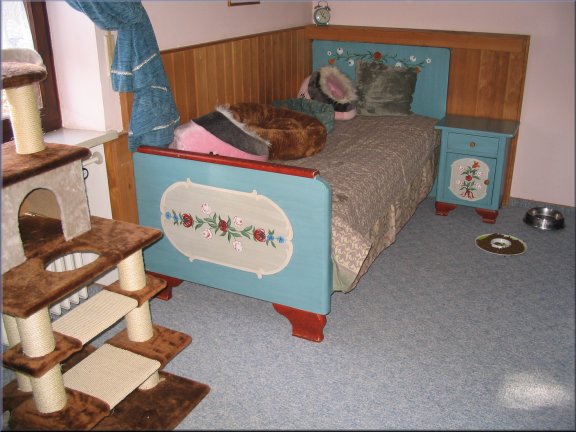 Treppenbaum im Wurfzimmer
Stairwell cat tree in delivery room



Katzenzimmer #4 (Deckzimmer)
Cat Room #4 (stud room)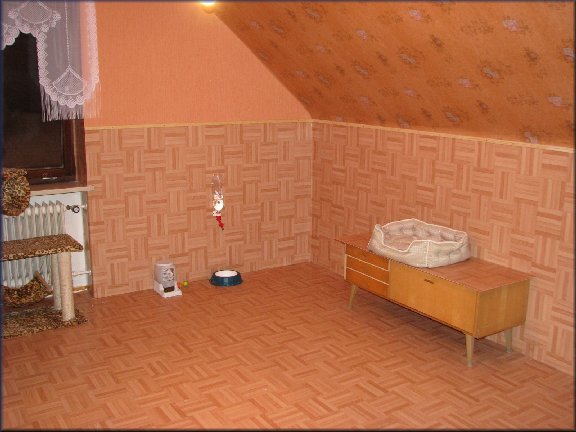 Hoehlen und Nester
Nests and caves




Die heissgeliebte Heizungsmatte (einer geht noch, einer geht noch rein...) im Schlafzimmer
The beloved heater addition in the bedroom (one more always fits in)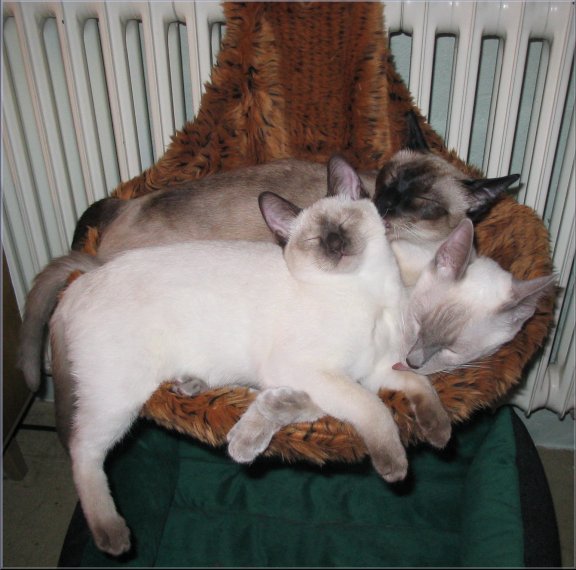 Dara, Joy, Jeannie

Obwohl, es geht nix uebers Bett
Although nothing is more pleasent than the bed



Mittlere Kratzbaeume
Medium cat trees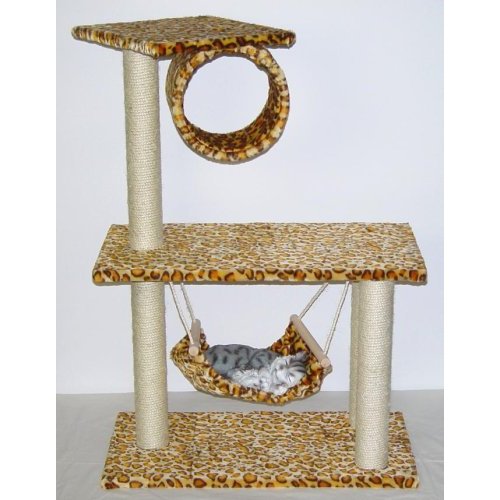 Der 'Riesige' im Wohnzimmer geht bis zur Decke
The 'giant' in the living room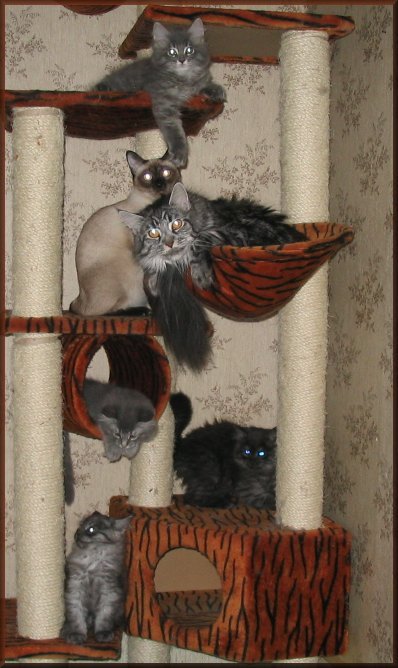 Der 'Edle' super flauschig, steht in Obergeschoss - dort residiert der Coonie Kater mit seinem Kumpel (Kastrat).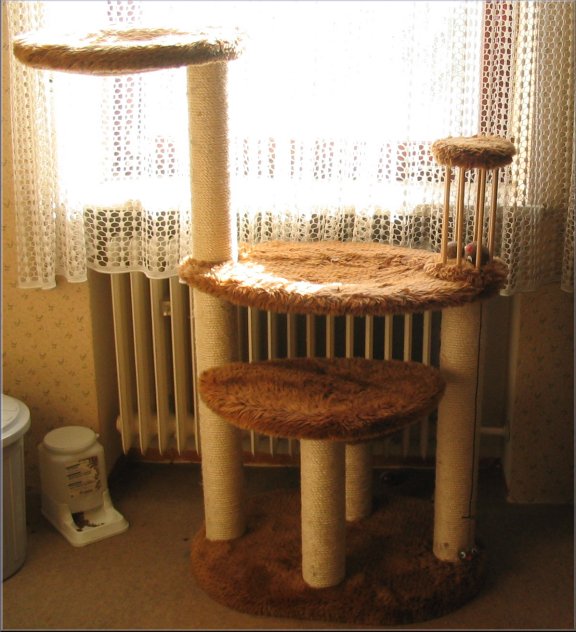 Spielbaeume
Play trees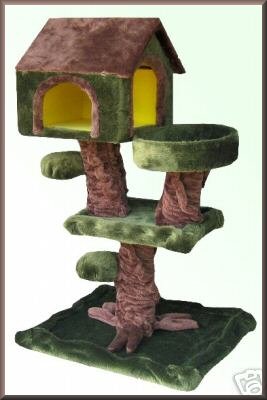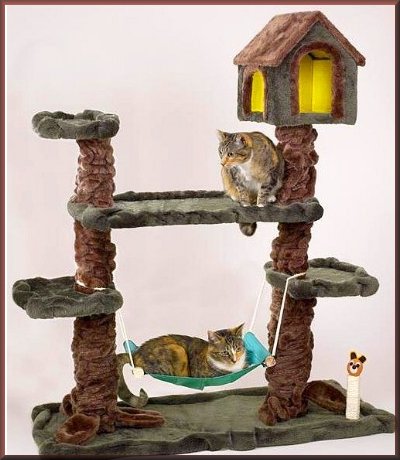 Kleiner Spielbaum fuer die Babies
Small play tree for the kittens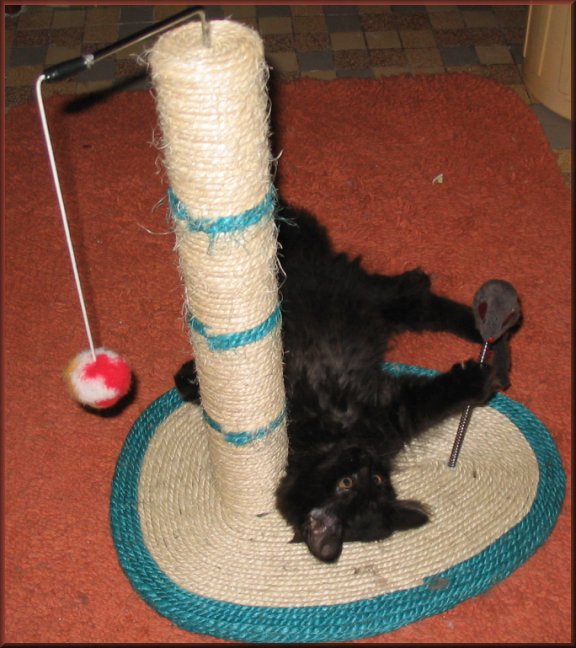 Auch Kittenspielzeug, die fahren enorm drauf ab
More kitten toys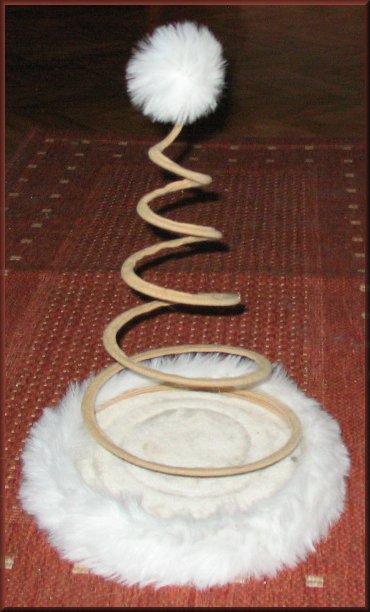 Kommende Attraktion naechsten Sommer: Das Aussenquartier (wir sind maechtig am planen und bauen). Wir werden ein paar Meter vor den Wohnzimmerfenstern eingrenzen, dann koennen sie frei rein und raus. Ein mit Fliesen ausgelegter Sockel davor, draussen, besteht schon, es braucht also nur noch eine Glaswand / Abtrennung hochgezogen werden dann sind wir fertig. Dann wird noch die ueberdachte Terasse katzensicher eingezaeunt... und der Sommer kann kommen. MEHR Platz und Spass geht nicht (okay, geht doch... der hintere Garten koennte mit ein paar Tagen Arbeit so eingezaeunt werden, das keine Fremdkatzen mehr durch die haushohen Hecken schluepfen koennen, dann gibts diesen Bereich als Spielwiese noch dazu und sie dueften MIT mir raus, sonnen, gaertnern, und und und.... mal sehn wie weit wir kommen).






Our Home, Cat Galore







Sooo, on this page you can see how we all live. I am using the term 'cat rooms' rather loosely. The 'food station' is always open, and the delivery room doubles as a guest room when not needed otherwise, but it is an ideal baby room, because I no longer need to spend a night on the floor/belly now, and can curl up with Mommie-to-be in the specially prepared bed. Now we can spend the last few days awaiting the kits in comfort, as well as the first week or so to provide extra comfort. After that, Momma and kits get reintroduced and everything goes. The deliver room is open to all when not in use, much to the delight of passing pedestrians who can view them all lounging in the sunny window sill or the comfy cat tree right in front of it, and are often seen stopping and waving to our fur babies, who seem to like the show and often reply with waves of their own. Definately the most sought after room (because of the sunny side) the girls are comfortable with it way before they need to remain in it for a bit have no problem using it as their kitten delivery station (the last few days they are separated to give them piece and quiet).

Otherwise, our house is separated in half into living and sleeping quarters, each section with several big rooms (the delivery room is part of the sleeping area), which allows separation when/if needed. During the day, all doors except the bedroom are open, and allow for perfect interaction of the whole gang. They are following us around, wherever WE are anyway. At night, they join us in the bedroom, whilst the stud goes into 'his' sleeping quarters, the 'food station'. They would choose this setting (we tested that several times) voluntarily anyway, but it allows a bit of control when things get interesting, and minimize spraying of an unsupervised potent stud. Unfortunately, 'studly' is now only allowed into the bed (an hour or two at night) wearing a diaper, as he has started to mark his territory, but he still gets his cuddle time and seems rather content with our solution. He greets us even more enthusiastically in the mornings, jumping onto the windowsill to get his diaper on and be let out (lol). He knows the drill, and has even learned to let us know he's 'got to go' or failing our immediate attention, that it is time to change the nappy (here, smell my butt, see? Now do something about it)




Coming attraction this summer: Outside quarters (we are planning and plotting). A few meters in front of the living room windows will be made cat safe (so no outside visitors can make contact). The base covered with tiles is already done, now we are looking at a glass bottom wall and net toppings for ultimate sun time. When the garden, eventually, is fenced in so no roaming cats can enter the property (1.5 meter walls and 3 meter thuja hedges are no deterrant for a cat in search of amore), the huge garden will also become a possible playground in summer. I can anticipate that when I'm outside gardening, they will want to join me, but at the moment that is not safe enough, so thats a work in progress.